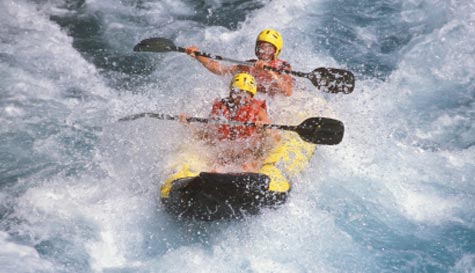 Despite the weird name, these funky boats are actually as cool as "ffff….". They're super lightweight and as tough as nails making them really manoeuvrable. That is they're brilliant to steer when in the right hands, but we're going to put them in your hands and the hands of your fellow stags. It's then a test of the guys to see just how much you manage to make them cut through the boiling white-water or whether you'll just take an early bath. Repeatedly.

Our stag party hotdogging will see you and the boys take to these hotdog crafts for a totally crazy white water, adrenaline fuelled experience. Providing massive adventure and a boatload of thrills and spills, as you go battling through rushing rapids and fast flowing waters.

Within the fantastic and tough craft you'll be taking on the wrath of Mother Nature herself. The two man kayaks might not look like much, but once you're shooting down the rapids you'll see why these hotdogs are considered to be one of the most exhilarating extreme water sports available.

If white water rafting sounds a little too comfortable for you and the lads ("Yeah, those big safe looking rafts are for whimps!"), then you might want to give this a go. It's a unique, thrilling experience that'll need you and the boys to work together to get around this awesome course. This is going to be a real test of nerves, and you're sure to need balls of steel to dominate these rapids and prove yourselves as ultimate stag adrenaline junkies. Have your waterproof cameras and GoPros at the ready for some amazing footage.

Stag party hotdogging is a great way to spend an afternoon on your big weekend. It's full-on, wet and wild fun that's sure to get all the lads laughing as they watch the groom get absolutely drenched after ploughing into the water from one of the courses epic drops!