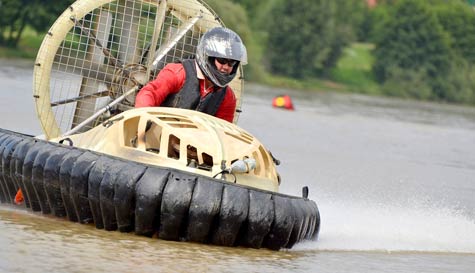 Ok, let's all get the "hot air" and "more wind than a best man's speech" type comments out of our system shall we? The bare truth is that hovercrafting is epic! While all the lads might think they're "The Stig" behind the wheel or are a bit handy on Gran Tourismo, if they really want to prove their driving skills then stag party hovercrafting really will put them to the test. And remember, these beasts can pack up to 50BHP which feels a lot bigger when you have a fan the size of a jet engine worryingly close to your head!

It's unlikely the boys have ever done this and that has a healthy degree of impressive stag weekend kudos. We'll give you a little heads-up, these bad boys are tricky to get the hang of and in every group, there will be those that take to it like a hovercraft to water, while others will continually wipeout and struggle to keep it on the course. This really ramps up the hilarity and you can be sure of plenty of laughs as well as driving action.

And much like the groom, these 500cc machines are powered by hot air (couldn't resist!) and will be spending the weekend having to wear a skirt (not that we're trying to put ideas into your heads or anything...). You'll get some great footage of the lads heading sideways with panicked looks on their faces. Of course, you might one of the ones doing the drifting so please watch out for the lake and try and keep the thing the right way up!