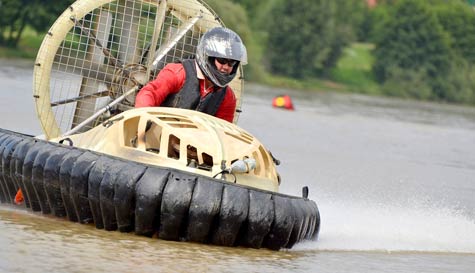 "The name's Legend, Stag Legend…" arrange an epic stag activity straight out of the 007 chase scene handbook as you and the boys go head-to-head in a series of thrilling hovercraft races in this hilariously fun, high-octane adventure.
Bond or Bust?
While some of the lads might think they're "The Stig" behind the wheel or are a bit handy on Gran Turismo, if they really want to prove their driving skills then stag party hovercraft racing really will put them to the ultimate test. These high-powered beasts can pack up to 50BHP which feels a lot more intense when you have a fan the size of a jet engine worryingly close to your head!

It's unlikely the boys have ever done this unique activity before and that brings a healthy degree of impressive stag weekend kudos. We'll also give you a little heads-up, these bad boys are tricky to get the hang of and, in every group, there will be those that take to it like a hovercraft to water, while others will continually wipeout and struggle to keep it on the course. This really ramps up the hilarity and you can be sure of plenty of laughs as well as driving action.
Hot Air and Frilly Skirts…
And, much like the groom, these 500cc machines are powered by hot air and will be spending the weekend having to wear a skirt (not that we're trying to put ideas into your heads or anything...). You'll get some great footage of the lads heading sideways with panicked looks on their faces. Of course, you might be one of the ones doing the drifting so please watch out for the lake and try and keep the thing the right way up!
So forget about your run-of-the-mill stag activities, make yours a stag do to remember and secure your position as a stag party legend by throwing this hilariously fun, fantastically unique activity into the mix.