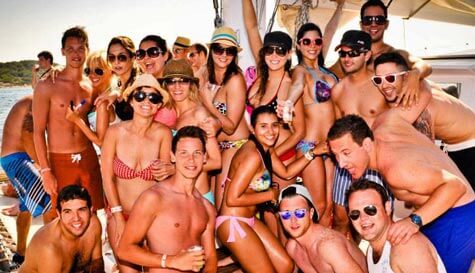 If you're going to party like rock stars (and this is Ibiza so you really should) then you don't want to just be stuck on a beach like 'normal' people. This is definitely not a normal weekend and needs a bit more class.
StagWeb will arrange for all the guys to step aboard and fantastic party catamaran to let the good times roll. You'll join other party-goers on a sun-kissed catamaran, where you can kick back, chill-ax and work on those pre-wedding tans, ready for those wedding photos. Or you can party to the tunes played through the vessel's sound system.
But all the sun is hot-stuff, we don't want you going thirsty so you'll also have free drinks (wine, beer, sangria and water) during the cruise to keep everyone suitably hydrated. But remember to take it easy on the 'dancing juice', never drink and dive and keep an eye on the rest of the guys to ensure everyone is pacing themselves safely. The catamaran will stop for swim breaks so you can really cool off and enjoy the crystal clear waters.
This is a fantastic stretch of coast to explore with plenty of great sunshine for those stag weekend photos of the guys in action.
The cruise runs 16:45-20:45, once you get back to dry land you'll each be given a bracelet which will entitle you to guest list free entry at one of the island's world-famous nightclubs to continue giving the groom a weekend he'll never forget.