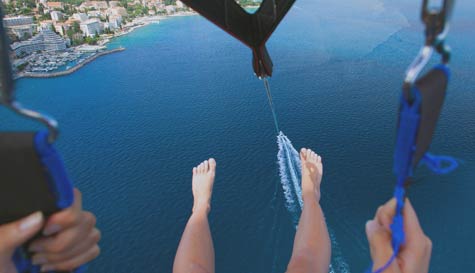 Ever dreamed of being an SAS paratrooper saving the day with a courageous flight through the air under an aeroplane? Or like a daredevil skydiver?...

Now you have the opportunity to (sort of) do both of those things when you're dragged behind a boat at high speeds until you take to the air with a colourful parachute holding you high! Kind of like parachuting or skydiving but without that absolutely terrifying moment when you're obliged to step straight out of a moving aeroplane and straight into the atmosphere... Keep the warm Ibiza sun within your sights while flying high!

You'll all start out your trip on Ibiza's fastest powerboat which is capable of reaching speeds up to 70mph! Even if that in itself isn't adrenaline-inducing enough for you, the next stage is to be launched into the sky on a parasail which means that you can reach a whopping 450 metres above the sea! The best part is, up to 5 of you can go up at once, so it's a great way to get everyone involved and test out those nerves of steel!

Departures from San Antonio boast a trip past the world-famous sunset strip, presenting some striking views for you and your fellow parasailors to take in - if you're not too busy screaming your heads off that is...