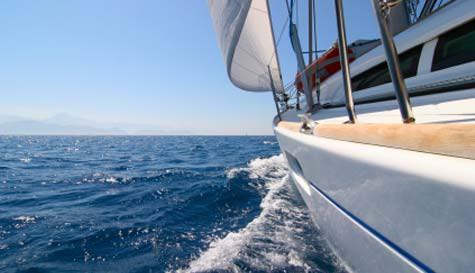 Everybody knows that the sun-kissed holidaymakers in Ibiza are a pretty glamorous set and the island is home to hundreds of celebrities every summer. Now you and the boys can fit right in with the chilled-out party scene on this incredible island and charter your very own yacht! Don your very best deck shoes, crisp sailing whites and designer sunglasses (or cut off jeans and flip flops) and live the high life. Even though your vessel for the day may not be quite as big as those belonging to Roman Abramovich or Richard Branson, size really isn't everything (where have we heard that before?). You'll have your own crew - and a fridge to fill up with beer. We ask you gents, what could be better!?

A stag party private yacht charter is a step towards living the dream Ibiza jet-setting lifestyle which suits a group of party-loving island stags.

Get ready for a fantastic day out on the ocean! You'll cruise the stunning coastline of Ibiza, swimming, drinking and sunbathing on board. Your captain for the day can drop anchor in many different stunning coves and beautiful beaches! Keep your eyes peeled for dolphins in the water and get ready for a fantastic day full of banter, beer and boats! Choose between a full day cruise or a half-day cruise to fit in with your schedule and whether you and the boys feel like playing the rich oligarch or simply can't wait to hang out in the ocean with your mates, there's nothing finer than enjoying your very own yacht!