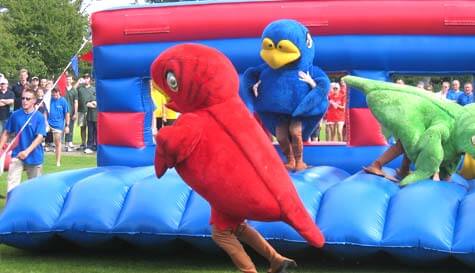 This is real 'old skool' stag madness of the highest order! If you can remember all those big TV game shows of the '80s & '90s (for those younger stags, think Total Wipeout!) and always wondered what it would be like to tackle an inflatable course yourself, then now's your chance!
Here's The Fun House!
You can transport the groom and all his mates back to the '80s & '90s with these hilarious stag challenges. Many of the props, costumes and games are those used in the massive hit game show It's a Knockout which ran for years.
Dressed in giant suits or just held back by bungee ropes, you'll find yourselves jumping giant inflatable hurdles, running up foam covered mountains, climbing a crazy blow-up 15ft wall and all manner of inflatable stag madness. This really is all your childhood memories brought to life. The whole thing is also played out against a soundtrack of top tunes (no bonus points are awarded for dancing, no matter how badly you do it!).
Big Thrills, Bigger Spills!
It mixes the very best of stag weekend requirements, huge laughs and plenty of competition to keep the lads fired up. It can also be a great platform for setting up your own forfeits or pint penalties between the teams depending on whether they achieve supreme victory or total humiliation.
And, of course, fortune favours the brave ones who arrive sporting their own Pat Sharp-inspired mullet!

This is without a doubt one of our most hilarious and successful stag weekend activities. If any of your team fail to spend the entire day in total hysterics then you might want to check their pulse for signs of life!