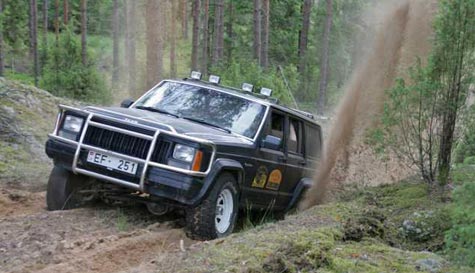 Have you always wondered what it'd be like to hammer through the countryside in a massive land rover, but you've always found yourself crawling down the B roads in a Ford Ka? Well now is your chance to live your off-road dream! Stag party jeep driving will see you and the lads take on the challenge of driving these epic vehicles through loads of tough terrain.

Not that it'll be a problem for you when you're behind the wheel of one of these bad boys, land rovers have their name for a reason. They're not afraid of any amount of steep inclines, bumpy troughs and stretches of deep water. Fans of these awesome machines have a saying, 'Why have a car that can go fast when a jeep can go anywhere'. Our sentiments exactly!

We've picked out the most rugged, rough and ready courses for your stag weekend. So if you're after some extreme driving thrills, you know you and the boys will be getting the complete off-road experience with StagWeb. You'll take on a constantly changing course of varied terrain that's sure to get everybody fired up before you head back into town for that big night out.

You'll get experienced tuition from the instructors on-site, so even if the groom does drive his jeep bonnet first into a muddy ditch, he won't be stuck there for long (but long enough to get some hilarious photos, don't you worry).

These awesome vehicles will provide endless amounts of fun and thrills for you and the lads on our jeep driving activity. So get ready to take to the wheel and run roughshod over Mother Nature. Just try to bring the groom back in one piece...