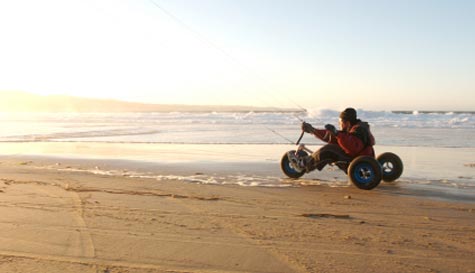 You've been saying it for years, the groom is just totally full of wind, so he could finally have the advantage in this superb weekend challenge, stag party kite buggying.
Similar to blo karting where small karts are driven and rolled across the sand in a race with your mates, kite buggying involves a small kart which is guided along by a large kite which is in turn pulled by the power of the wind.

The buggy designed base relies a lot on strength and coordination of the driver and so it's a massive thrill and a real challenge when you and the boys are out on the beach. You'll depend on the wind to drag your kite along and it's possible to reach top speeds as you fly along the ground, trying to avoid the sea and your fellow stags. Kite buggies give a real white-knuckle ride and provide the perfect opportunity to take on your mates for some healthy competition to find out who's stag king for the night.
It's an unusual activity and it gets everybody outside on the beach and out of the pub and it's perfect for blowing away any lingering hangovers as well as bringing different groups of friends together. Kite buggying is an epic outdoor challenge that it's unlikely any of the guys will have tried before. That means not only will you be lining up something competitive for them, it's also something new, so none of the guys are likely to have an advantage when it's time to get racing.
Combine all that with the stunning location and you're on for a superb activity on one of the most amazing beaches in the UK. This is exactly what stag weekends were invented for!