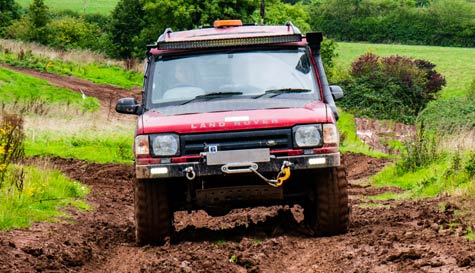 If you and the boys love to get behind the wheel of a seriously powerful machine then this is the Krakow stag do activity for you. Push those incredible 4x4 vehicles to the ultimate limit and see first hand exactly what they can do. Far from their usual use on the school run, you get the opportunity to use old school Land Rovers and Range Rovers for the very reason they were intended - to take on the roughest terrain you can throw at them and get seriously muddy! Put your driving skills to the test and find out once and for all who really is the best at precision manoeuvres.

There's also the added thrill of getting to give your fellow stags serious grief as you watch each other's run. You might even get the added bonus of watching the groom park it in a tree or have to swim for safety. Happy days!

You can do 4x4 off-road driving out in the Polish countryside where some of the very finest hills, peaks, troughs and of course mud lies, ready for you all to do your worst while the guides do their best to make sure you keep it shiny side up. Expert instructors on-site offer an exciting test of your skills behind the wheel of a top-quality 4x4 vehicle. Here, it's not speed that counts, but your steering skills, orientation and driving precision, plus of course your ability to give your fellow stags a real slagging. Learn the best ways to handle these monster vehicles from the experts on-site and in no time you'll be away!