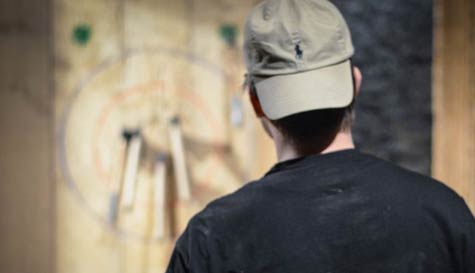 Ok, so let's all get the 'little chopper' jokes out the way, shall we? Unless they're aimed at the groom, in which case 'have at it'.
This is an awesome sporting challenge and essentially darts for lumberjacks. You'll be met by a friendly female guide and taken to the funky underground venue. It's here that things get a little more serious.
Firstly, you cannot be drunk. Should any of the guys be intoxicated on the day they will not be permitted to take part and no refund shall be given. Secondly, you need to listen to the instructors. They're friendly guys and really want you to have a great time and big laughs. They also want to make sure everyone leaves with the same number of digits they arrived with.
After a quick safety briefing and instruction, things get competitive.
Let's. Play. Axes!
Just like the darts world championships, you'll take it in turns to step up to the oche and let fly. The target is segmented like an archery target, the thrower who scores the most points wins. Simples.
Not only is it a really well-priced activity and brilliant fun, it's also great training for when the zombie apocalypse comes. It's just a matter of time friends and you'll be better prepared than a Rick Grimes convention.