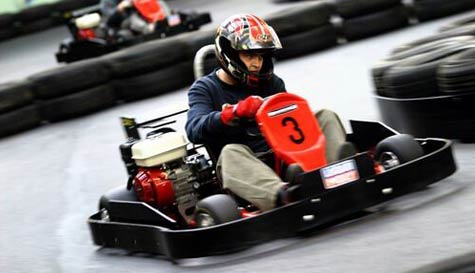 Go-karting has consistently been a massive hit with stag parties for one simple reason... It's brilliant! It's a chance to go wheel to wheel with the lads at high speed, with no popping cameras or flashing lights behind you, you can totally let rip and finally decide once and for all just who is the best driver.
There's also the added bonus that you might get to see the groom park it spectacular on a tyre wall.
This is white, knuckle, adrenaline-pumping stuff from beginning to end as you take to the brilliantly devised track which is designed to let you hit top speeds and take on some really tricky cornering with plenty of opportunities for overtaking or simply overcooking it as the rest of the stags whizz by.
The track is 500 metres long, with a smooth fast surface, perfect for getting on the pedal quickly and using timing technology and instant trackside displays. The karts are 200cc machines capable of hitting 40mph, that might not sound like much on main road but is hellishly fast when your backside is just a couple of inches from the tarmac. The site also has a rest area with full view of the track, sofas, TV screen, electronic time displays which is ideal to celebrate a winning performance.
Each stag will get 24 minutes of high-speed action covering practice, laps and a grand finale after which there'll be a podium presentation with bubbly for the winning driver and despair and derision for your stag party's Captain Slow. Seriously guys, if you're over the opinion that "winning isn't everything" you really don't want to come in last on a stag weekend. So get ready for some epic action, take no prisoners and give your fellow stags a face full of exhaust fumes.
The session also includes an English speaking guide and transport to and from your accommodation. Our Krakow stag party go karting is superb and couldn't be easier to get in motion, contact our team today and get ready for some full-throttle action on your Krakow stag do.