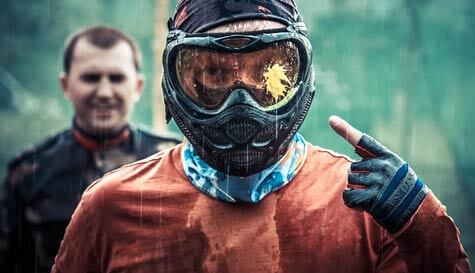 Our Krakow stag party paintballing centre is one of the best in Europe, which makes it a sure-fire success for any Krakow stag do. Think you've done paintballing before? Our Krakow venue is based in dense Polish woodlands and comes complete with wooden bunkers, gigantic obstacles and three classic combat scenarios. The lads will be commando rolling under a hail of high-velocity paintball bullets, darting between trees and ducking for cover as if they were playing Call of Duty.

Once you're armed with your state-of-the-art semi-automatic paintball guns and on the battlefield, those 200 free paintballs given to each stag are going to be shooting through the air, pelting stags and leaving their mark as each team battles in an effort to secure their objective.

Speak to our Krakow stag party paintballing marshals if you really want to stitch the groom up. If you've got any paintball bullets left at the end of the day they might suggest sending them all in the direction of the groom during one final round of carnage. Better yet, make sure the groom is extra visible for the duration of each battle by giving him something unique to wear: think hi-viz jacket or a neon onesie for best results.