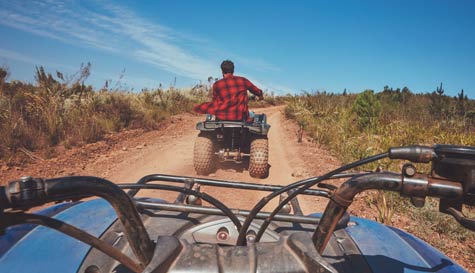 If you're bored of the daily commute, being stuck in congestion, behind traffic jams, or anyone who has ever owned a Micra then this is definitely for you. Part racing track, part obstacle course, the twists, turns and jumps will push your driving skills to the limit.
You'll begin by being met at your accommodation by our friendly female guide, you'll then be taken to the track which is thirty minutes from Krakow. On arrival at the site, the English-speaking guides will give you a quick safety briefing and show you the controls. If you've never driven a quad before you're in for a treat, these manic beasts are brilliant to handle, ultra-responsive and extremely powerful considering their light frames.
With all the safety instructions taken care of, it's time to get off-road and personal. You'll be pushing your driving skills to the limit, it's also a great workout as you fight to stay in contact with the saddle and constantly adjust your driving position to gain maximum speed and overcome the obstacles.
Depending on conditions you could be facing deep ditches and puddles, dry gravel and loose earth or all of the above. You'll feel the need for speed as all the stags are bound to want to prove they're quickest around the course which has sharp bends, turns, drops and ramps. "Hold tight riders and scream for speed!"

The most important thing is keeping the machines shiny side up, which really isn't as simple as you may think. This is adrenaline-pumping action and perfect for a group of lads looking for adventure on their Krakow stag do. Mount up, man up, ride on!
At the end of your session, your host will take you back to your accommodation or you could be dropped off at a suitable watering hole to talk over the action.