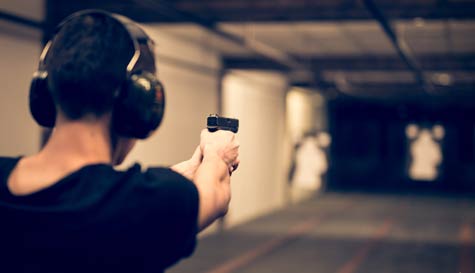 Over here in the UK, we're told that guns in real life are nasty and dangerous from a very early age. That's probably true, but in the right conditions, getting your hands on some of the most powerful weapons known to man can be a seriously exhilarating experience.

That's why on our Krakow target shooting experience, we aren't going to hold you back. You and the boys will be getting to grips with Eastern Europe's greatest and best firearms to find out who's a 'top gun', and who couldn't even shoot fish in a barrel!

This is one of our most popular activities in the Polish party capital, and it's not hard to see why. Target shooting is adrenaline pumping, competitive fun that lets meek and mild British lads unleash their inner Hitman as they open fire on a range of static and dynamic targets designed to challenge you to the max.

Our Krakow shooting range is one of the best around, as they don't limit you to pistols. You'll get hands-on with guns you've only ever seen in the movies like the Polish Uzi, the pump-action shotgun and the world-famous Kalashnikov. Although you might want to resist going full-auto, with only 43 or 55 bullets each, you'll need to make every shot count (that is unless you want to spend a little extra so you can really let it rip!)

Krakow target shooting is a great way to get any day of nearly-wed action underway, these are extreme, visceral thrills that are going to give the lads something to talk about for the rest of your epic Krakow stag weekend.