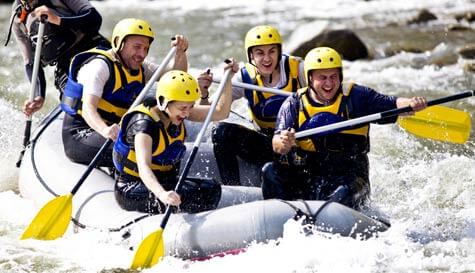 Krakow really is a paradise for stags, with great food, delicious beers and gorgeous girls. What you might not realise is that the Polish party capital has some of the most extreme outdoor activities in Europe, and white water rafting could become the highlight of your big Krakow stag do.

This course is so awesome; they use it to train for the Olympics. That's no gimmick, these waters are seriously extreme and you'll need all your skill with a paddle if you're going to come out the other end of these rapids in one piece. Your gym-built (or otherwise) muscle power will be called into action on this activity while you struggle with wild mountain rivers.

It won't be as easy as just holding onto the side of the raft (or each other, who are we to judge?) for dear life while screaming your head off though, there are some seriously tricky obstacles you'll have to avoid, and your pontoon won't turn itself through the white-knuckle hairpin bends.

Our Krakow white water rafting takes place at one of only three professional tracks in the whole of Europe, and it's the ultimate test of manliness. With qualified instructors on hand at all times, you'll receive constant advice on the best ways to overcome the challenges you'll face as you hurtle down the rapids.

This activity will provide you and the lads with big laughs and even bigger thrills. Just make sure you bring the groom back in working condition, or the bride-to-be will be less than impressed!