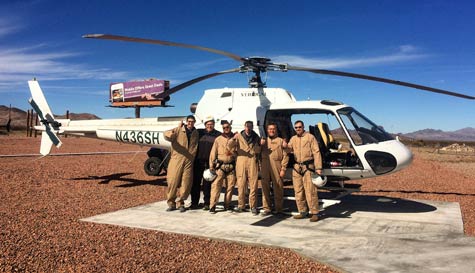 Are you ready to embark on one of the most breathtaking, unbelievable and sensational helicopter adventures in the world?
If you're looking to add a few ticks on your bucket list then this should definitely do the trick as you enjoy the kind of day you'll talk about for weeks and remember forever.
Our luxury transport will pick you up from your hotel and take you to the iconic Hoover Dam which has appeared in so many famous movies. You'll get up close to this giant of engineering, as you stand 900 ft above the Colorado River and be able to take plenty of photos of the guys in action. It's then time to saddle up for the 'whirlybird' as you take to the skies.
You'll literally be flying through the Grand Canyon as you feel the wind on your face. The chopper has no doors so you really do feel the heat and atmosphere of one of the Seven Wonders of the world. This helicopter has been designed especially for this particular and there really is no better way to see the Canyon. You'll fly just 300 ft above the canyon as well as taking in the famous Joshua Tree (depicted on the U2 CD and a hippy icon). View an abandoned copper mine from the 1800's, a natural desert spring, and the Grand Wash Cliffs before you dip 1,500ft into the canyon itself!
"Trip of a lifetime" is an overused phrase but this is the real deal and a massive adrenaline buzz. Without a doubt, this is a must for any Vegas-bound stags which we highly recommend.
A 'World Famous Burger' lunch is also included.