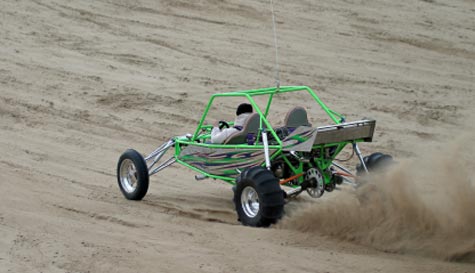 Where we're going we don't need roads... Let's face it, roads are for wimps, or policemen, or people towing caravans on a Sunday when you're desperately trying to get to the pub in time to watch the kick-off with the lads. Here in Vegas, when it's time to kick off we do things a little differently.
Like a nervous mobster caught with his hand in the till, you'll be picked up from your hotel and driven to the edge of the desert while you get increasingly nervous about what awaits you there. And you really should be nervous, Dune Buggies might sound like the coolest four-wheel machines ever (well, actually they are) but you have never experienced a ride quite like this. Undulating dunes, ground that is permanently shifting beneath you, the sun beating down, the roaring thunder of the engine and no Radio 2 Popmaster coming out the stereo to help calm your nerves.

In fact, there is no stereo or windows or much bodywork. These mean machines have been stripped down to the very basics with just a racing chassis, giant tyres, roll cage and giant engine. But that's all you need for an adventure that is the most fun you can have on four wheels without seeing flashing blue lights in the rearview mirror.
Stags come to Vegas to experience adventures you simply can't get back at home and this one really does top the list for anyone who loves motors and adrenaline.
Rated by Rolling Stone magazine as one of the best activities in Vegas. Gentlemen... It's time to kick ass!