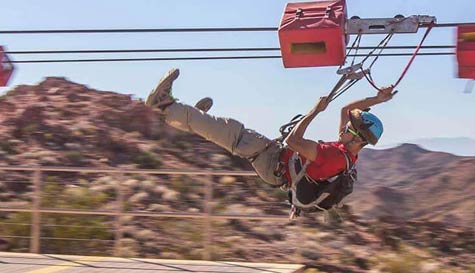 They say everything is bigger over in the USA, and this extreme skywire is no different. Think of the zip wire's you knew as a kid... now picture one end of that same zip wire attached to the top of a mountain over a canyon, and the other end to the base below and you have our adrenaline pumping extreme skywire.

It's non-stop, action-packed madness that'll see you and the boys soar the skies of the Nevada desert at up to 60mph where you'll have a unique bird's eye view of the Las Vegas red rocks. We told you it was extreme. This one certainly isn't for the faint of heart and will really test the boys to the max. The four wires vary in height and 'fear-factor' and you'll need to have balls of steel to take on the toughest wire that is quite simply epic!

Overcoming your fears you'll get a spectacular vantage point from your position, suspended from cables and safely secured in a paragliding harness, with phenomenal views over the breathtaking landscape. This is quite simply an extreme ride you'll never forget.

This is an awesome activity that's sure to have the stags buzzing for days and will give you a chance to see the mountains of Vegas as you explore the land from a superb aerial trail. People might well talk about the bright lights of Vegas but this is undoubtedly one of the most spectacular sights you'll see and something most tourists don't even get close to.

Las Vegas is already jam-packed with one of a kind activities, but if it's heart-stopping, electrifying, thrill-seeking action you're after, our extreme skywire is the way to go. Plus you'll get some stunning team photos of the lads standing at the top of the mountain not forgetting the huge adrenaline rush and massive sense of achievement once you reach the bottom.