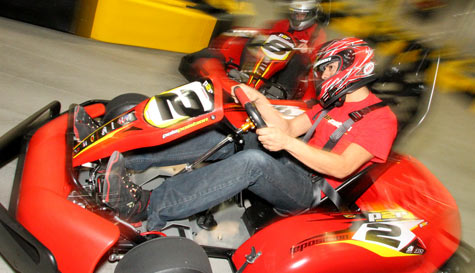 America is a nation obsessed with fast cars and power. It's also darn tootin' at customer service. Marry the two together and you get a superb, fast and furious racing session at this top-class track.
Forget the go kart tracks you've seen back home, this is racing Vegas-style, the track and karts are so pristine, (seriously, it's cleaner than Monaco!) there's also plenty of off-track facilities to add to the experience. But let's take a look at the serious stuff first.
You'll be racing in eco-friendly electric karts capable of speeds of up to 45mph, which is unbelievably fast when your backside is just inches off the tarmac. The superb 1/4 mile track is every racer's dream and a far cry from the pot-holed surfaces you have to dodge when driving back home.
You'll also have your own reserved area and two drinks each with a choice of beer, wine, soft drink or energy drink. You'll also find pool tables, MTV and sports screens plus the all-important bar where the winners and losers can celebrate or commiserate because as it turns out, second place really is for losers.

Yep, on a stag weekend it's all about the winning, and most importantly making sure you beat the groom. It's your duty! You can also grab a bite to eat before heading out for your next big Vegas adventure, ask our team about creating a full weekend package with big shows, big guns and big laughs. It's Vegas baby!
This is the perfect stag challenge, a great way to have some sporting laughs without suffering in the Nevada heat.