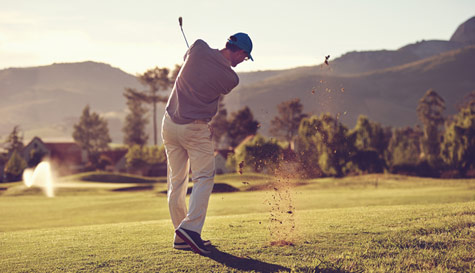 You've had your first big night in Las Vegas. You'd heard about how epic the nightlife is in Sin City but you didn't realise just how mental it could get and now your head feels like it's on the verge of exploding beneath the weight of a hangover that feels like Arnie himself is squeezing your poor English head. We have the perfect solution, golf. Our golf stag party in Las Vegas is golf of the highest quality, it's a great way for you and the guys to get outdoors and shake off that killer headache while you try to piece together your awesome first night in Vegas.

You'll be taken from your hotel to our course where you'll play 9 rounds of quality golf or if you just want to take out your hung-over frustrations on a defenceless golf ball, hit the driving range and let it rip. However, this is definitely not a pitch and putt. It'll take all your golfing skill to get around the course in the fastest time to be crowned stag golfing champion.

Our golf stag party really is the perfect activity for stags who want a relaxed morning activity that isn't going to take anything away from the big night ahead, as an added bonus if you book a morning session you'll even be treated to breakfast. Or if you choose to play in the evening to wind down before letting your party animal out, you can treat yourself to a few beers after you're done. Now you can't say fairer than that...