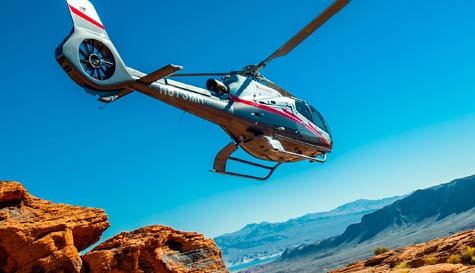 Perhaps it's fitting that one of the world's greatest manmade sights should sit so close to one of the world's most incredible natural wonders. Nestled out in the Arizona desert, the world-famous Grand Canyon is quite simply jaw-dropping. While you might not normally consider yourself to be a photo-taking-sight-seeing-tourist the sheer, quite frankly ludicrous scale of the Canyon makes it almost impossible to comprehend and is an absolute must for any stag weekend. The return flight will head over the Vegas Strip which is even more stunning from the air.
Our Las Vegas stag party Grand Canyon helicopter tour gives you and the boys a chance to see some of the most striking landmarks both natural and manmade before culminating in an unforgettable flight through the Canyon which is a staggering 277 miles long, 29 miles wide and a mile deep.
You'll be taken to the pre-flight lounge in style in a luxurious stretch limousine. Once all the guys are strapped in you'll take to the skies and with typical Vegas panache; music, narration and pilot commentary as you fly to, over and through some of the world's most spectacular and harsh terrain.
The sights you'll see include:
Hoover Dam
Mojave Desert
Lake Mead
Colorado River
Grand Canyon
This incredible journey will also include landing at the bottom of the Canyon, giving you the chance to explore this stunning, unspoilt area on foot like a stag-do Indiana Jones before returning to the top of the ravine to enjoy a refreshing Champagne lunch overlooking one of the world's most stunning views.
After an enjoyable lunch, you'll take to the skies once more and flyover the Vegas Strip, passing Caesar's Palace and Stratosphere Tower, the shimmering skyline of New York-New York and the incredible Luxor pyramid.
Las Vegas stag party Grand Canyon helicopter tour is one of those amazing stag party memories the guys will never forget and a fitting way to send the groom off in real Las Vegas-style.