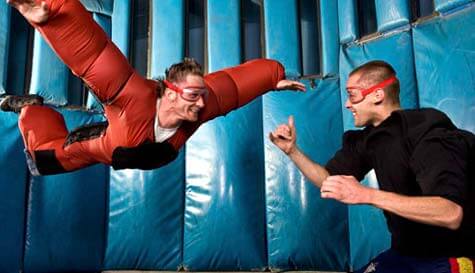 Our Las Vegas indoor skydiving facility is a must-visit for any stags looking for heart-pounding thrills and a once in a lifetime chance to experience freefalling. With no need for parachutes or planes, you'll experience total free flight with no backpack or lines to get in your way. It's almost like you're superheroes! (minus the capes and plus hangovers).

The friendly instructor's centre will teach you the basics and safety of indoor skydiving before entering the tunnel to ensure each stag gets the best out of their flight. You'll all learn body positions and moves to ascend and descend, shift and swivel, roll and rotate like a boss.

Forget being thousands of miles high with a very hard landing for a massive engine that'll keep wind speeds going at up to 120mph creating virtual freefall. The wind tunnel itself has padded walls and a mesh trampoline floor, so the groom won't damage his pretty face if he does manage to get it all kinds of wrong and face-plant the floor halfway through his flight.

During the 3-minute flight, you'll experience the equivalent of a 12,000ft freefall. You'll be glad you're in flight suits and helmets when the high-powered wind tunnel gets to speed and you feel free flight. It's an epic experience that every stag will remember for years to come.
* Please check with our team for full height and weight restrictions.