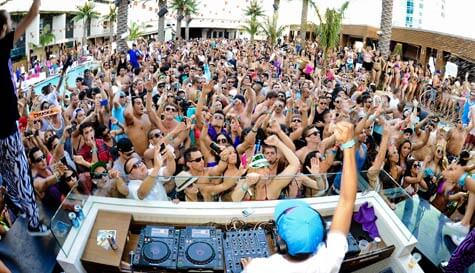 Everything in Vegas is on a grand scale: the bars, the burgers, the boobs, everything is just... bigger! And that includes the parties. We've all seen those US teen movies with impossibly gorgeous people all living it up at a pool party, well now it's your chance to experience it for real in America's 'Sin City!'
There's one other incredible piece of American legend and that's the fact the girls love British accents (we can happily confirm this to be true) and with VIP entry to the pools, amazing drinks deals, a tour bus with its own unlimited daiquiri bar and a tour of the Strip this is set to be one of the greatest parties ever!
The hosts will help get the party started before you take in the first of the pools, you'll then board the luxury party bus for a tour of the infamous Vegas strip, where you'll see sights familiar from movies like The Hangover and Oceans 11 while enjoying ice-cold beverages courtesy of the free-on-board daiquiri barmen.
After stopping for a stag team photo at the famous Las Vegas sign, you'll be taken to the final pool party where you'll be able to get down to the sounds of the top DJ until closing time. This is the perfect way to really sample the good ol' US of A and really celebrate the groom's big weekend in typical Vegas-style... It's going to get messy!