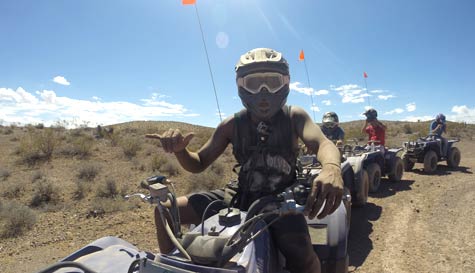 If you're going to get on a quad bike then this adrenaline-pumping adventure is definitely the place to do it.

The day will start in style as we arrange for luxury transport and your own personal guide to pick you up from your hotel. You'll then be taken into the Mojave Desert to your waiting mounts, top-end, high powered quad bikes. All the group will be given safety equipment and shown how to drive the quads (take it easy to start, these bad boys don't take prisoners! Golden rule "Four wheels good, two wheels bad"). Once you hit the road we ask you to try and keep the quads shiny side up at all times.

You'll see some amazing trails in an area renowned for its history of Apache Indians. You'll travel at pace over different types of ground before stopping off at the stunning Colorado River to take photos and dive in for a swim if you wish.

The tour takes in the Lake Mead National Park & Colorado River as well as the Hoover Dam Bridge where you'll get fantastic views of this incredible piece of engineering as the river rages 900 feet below you.

If all that wasn't enough...

You'll also have your own personal guide throughout, return luxury transport to and from your hotel and a 'World Famous' Burger' lunch consisting of the World Famous Burger, fries and a soft drink.

This is a man-sized adventure for serious stags so saddle up and explore Nevada in a totally different way.