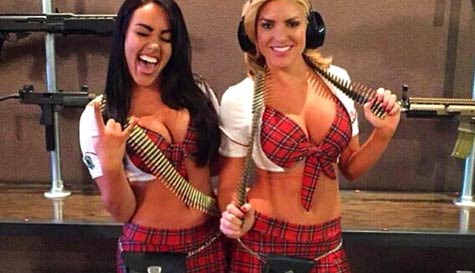 "Say 'hello' to my leetle friend." Possibly not the phrase you want to come out with in front of the Las Vegas Gun Girls. Looking impossibly Vegas these absolutely stunning babes will teach you and the guys how to handle your weapons. Yes, expect plenty of stag jokes... Right up until the guys see the babes and then become magically struck dumb in front of these total babes.
The fun begins at your hotel where you'll be picked up by an A-Team style van, complete with a machine gun on the roof (welcome to Vegas!). After a short journey to the shooting range, the guys will listen to a quick safety briefing. It's then time to meet the Gun Girls. While they look stunning (and they really do) they're also totally deadly and amazing shots.
They will teach you exactly how to grip each of the different guns and the technique required with each gun to hit the target.
Glock 17 - 10 rounds
Heckler & Koch MP5 Sub-machine gun - 25 rounds
Howa 1500 223 Sniper rifle - 5 rounds
Either HK33 or M249 (SAW) belt-fed light machine gun - 25 rounds
Once the smoke has cleared and the metal jackets litter the ground, you and the guys can head to the bar to compare targets to see who is Top Gun and who has all the shooting prowess of England World Cup squad penalty takers.
This really is the kind of activity you could only find in Las Vegas which just makes it even more special and an activity we definitely recommend to all groups looking to build a totally memorable Las Vegas adventure.