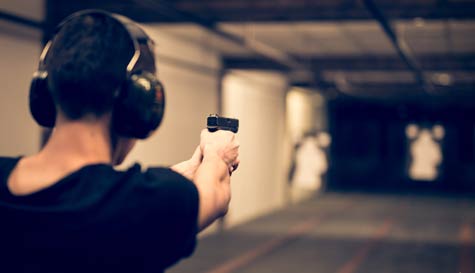 Our Las Vegas target shooting activity is a must for stags with an itchy trigger finger on their big weekend in the states. You'll be walking into a world-class shooting complex that's just 35 minutes from the Las Vegas strip.
If you've already got an action-packed day organised and you're worried you won't be able to fit a little target practice in there, don't sweat it. Our target range is right in the thick of it, so you can take a deep breath, relax, and then blow challenging targets to smithereens with a range of destructive firearms.
The lads will be getting to grips with some seriously powerful weapons including the world-famous Glock 17. While this pistol isn't the biggest gun you'll find on the range, it packs one of the most devastating punches and you'll soon understand why it's the favoured sidearm of Special Forces around the globe.
For those who like their target-destroying machines big and loud, there's the Heckler and Koch MP5 that can rattle the rounds away with alarming precision, the simply awe-inspiring M249 SAW and the .223 Sniper Rifle provides a high-octane rush for discerning sharp-shooters.
Our Las Vegas target shooting session is sure to result in big laughs and big thrills as you get hands-on with guns you thought you'd only ever see in the movies. This is an adrenaline-pumping activity that the boys will still be talking about for weeks to come!
While the guys might think they're pretty handy with a shooting iron in GTA, or Call of Duty it's now time to see just how they do away from their consoles and with some real hardware in the hands.