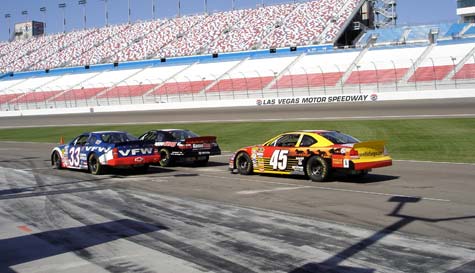 Whether the groom to be fancies himself as a pro racing driver or he can't even drive a manual, our awesome Las Vegas track day session will get him up to speed and zooming around this incredible high capacity stadium.

There are several motorsport experiences in Las Vegas but our track racing is quite simply and without a shadow of a doubt the best of the lot, it's the closest you'll get to the ultimate pursuit of motor racing without actually competing in F1 or NASCAR yourself! In fact, it has to be one of the greatest stag weekends or corporate motorsports experiences anywhere in the world! The cars are authentic top of the range, expertly prepared and managed (Indy-style twin and single-seated or race prepped BMW Z3s), first gears in the Indy Cars are race-tuned to 180 mph so gear changing is not a factor giving you more time to concentrate on the track ahead!

The Las Vegas track is very real; it's a beautiful, state of the art 178,000 capacity stadium. You're in good company, apart from some of the world's greatest drivers Simon Cowell, Paul Newman, Halle Berry, Celine Dion and even the Hoff himself have graced the track with their motor racing skills! In terms of corporate events some of the biggest names in business host events here so you can be sure the quality is consistent and the experience of taking a genuine motor racing car onto one of the greatest tracks in the world is up there with the best things you'll ever do. Oh, and with our Las Vegas motor racing programme you'll reach speeds of up to 180 mph!