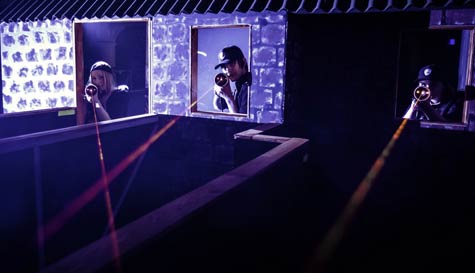 Electronic laser tag was seriously big business 20 years ago and the chances are the last time you gave it a go; it was followed by a party bag with a Freddo and a carton of Um Bongo.

Our stag party laser quest will give you and the lads a chance to travel back through the years, to a time where shooting lasers at your mates in a setting that resembled something from the movie Tron was the height of cool. And you know what? It still is.

Let your inner child run wild in a game of electronic tag that's bound to bring out everyone's competitive side as they shoot it out to take their place at the top of the leader board.

You might get some big laughs from the unusual neon scenery at first, but soon enough it'll all become a fluorescent blur as you power through the arena in the dark, in games where you'll be both the hunter and the hunted.

Grab your electronic vest and laser blaster and enter the fray. These arenas can throw up a number of challenging events, including open catwalks and thick jets of fog. Whether you're playing as part of a team or you're a lone Terminator, you'll have to seek and destroy the enemy to earn points.

Laser quest is just as good as you remember it, its madness and mayhem of the best kind. If there ever was a time for nostalgia, it's before the groom signs off on his childhood for good.