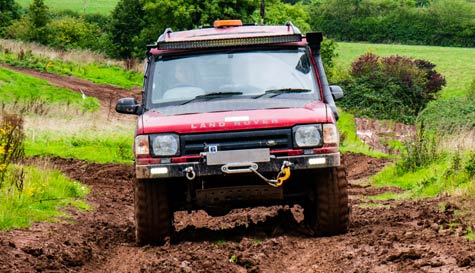 4x4 off-roading provides high quality, fast-paced and muddy motorised action that will really get your blood pumping and your hearts pounding. It's an intense, extreme experience that takes the carefully controlled, immensely powerful cars, puts a stag in them, and lets you all run rampant driving them over steep hills, downside slopes, and through water, in a man and machine tag team battle against natures most fearsome countryside. Trust us, it's harder than it looks.

Our first-class activity centre in Leeds embodies all that's best about 4x4 driving, kitting you out in roaring Land Rover Discoveries and letting you tackle a purpose-built circuit, set in 14 acres of challenging terrain that's rife with steep ascents and descents, water gullies, and mud 'bomb holes', designed to push both new and experienced drivers.

The circuit is designed to test a number of skills, including tackling steep gradients, coping with stalled vehicles and failed ascents, entry into and traversing deep water, and basic techniques in extraction and recovery using ropes and winches alongside good old fashioned brute strength! With professional, expert tuition throughout, this is a great way to take your driving skills to another level. If you're looking for action and adrenaline, this is for you!