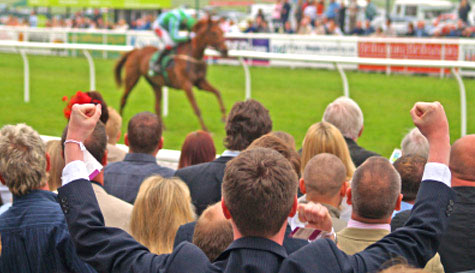 It's the sport of kings! Surely there's no better way to celebrate the groom's last weekend of freedom than to get involved with one of the most gentlemanly activities around, horse racing.

Our Leeds horse racing is an excellent way to spend an afternoon having some top quality racing fun. You'll head to York's premier racing track that holds some of the UK's biggest race meetings.

After the 2012 season, this epic track was once again voted 'Best Racecourse in the North' by the Race Goer's club. So you know you'll be getting the real racing deal on your big weekend.

This tracks' prestige means it attracts the best racing horses around. So you'll see racing at its finest with neck to neck action for you to enjoy as spectators or punters. Except with this phenomenal live atmosphere, you'll feel every fall, and cheer every winner. Unless they just lost you twenty quid, that is.

A day at the races is always a popular choice with the lads on a stag do. It's chilled out, relaxed fun that's perfect for setting the pace on the first day of the groom's big weekend. If you're heading off on a Leeds stag party, horse racing is an absolute must.

After all, who doesn't want to win on a bet their mates lost on? Who knows, you could spend the day sipping celebratory champagne. Of course, get it wrong and you'll struggle to scrape enough cash for Bob's Burgers on the way home so always bet responsibly.