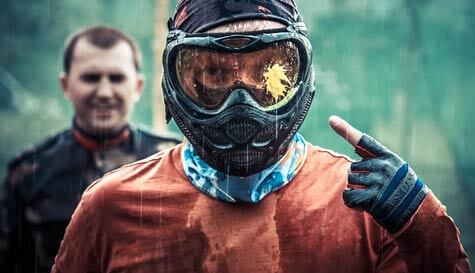 Paintballing has long been the pinnacle of stag party activities, and that's because it's epic! Our Leeds stag party paintballing offers grown men the chance to go full-blown Schwarzenegger, charging through enemy stag lines, firing from the hip and taking names before finally going down in a blaze of glory and paint. At least, that's how you'll tell the story down the pub afterwards.

Our Leeds stag party paintballing centre is one of the best in the UK. With a range of props and obstacles such as machine-gun nests, foxholes, trenches and bunkers to make use of during your day, there'll be plenty of ways to attack each objective.

Everyone will be armed with a semi-automatic, 0.68 calibre Inferno paintball guns that'll make short work of your mates. It's one of the most reliable paintball guns on the market so there'll be fewer weapon jams and abandoned attacks.

Put those lazy days playing Call of Duty and Halo to good use by keeping a cool head under heavy fire and reacting to everything on the battlefield with unmatched speed and precision. This is the only real way to separate the men from the boys. With optional extras like paint grenades and pyrotechnics, you can get fully immersed in the combat experience.