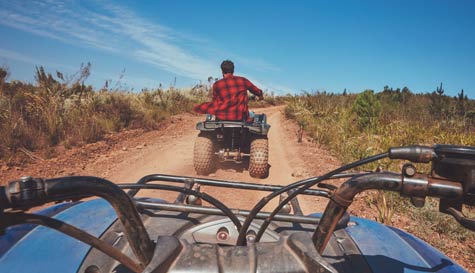 Have you and the boys ever experienced the rush that comes with having a 125cc off-roading beast at your disposal? If not then it's about time you did. Our quad bikes stag party in Leeds is the complete off-road experience. You'll be shown to your own personal motor after a full safety briefing, and then you'll be off.

First, you'll take on an open woodland challenge. Dodging between trees and other tricky obstacles in your path, before progressing onto the ultimate quad biking challenge in the second course. Here you'll need to display your complete range of epic driving skill. Slide your way through some tightly packed trees, steep hills and some boggy traps where there's sure to be plenty of opportunities to let those massive wheels spin and treat your mates to a classic mud shower.

There'll be plenty of opportunity to showcase your quads full power when you really want to make your engine grunt. Carve your way through the changing terrain and cut through anything in your path (within reason, you don't want to be the unlucky lad to find himself headfirst in a puddle). You and the lads will get pounding over acres of countryside in this adrenaline-fuelled quad biking experience that will thrill you and fellow stags to the max.

It wouldn't be a proper quad biking stag party without that all-important chance to show up your mates with your biking dominance. Compete in skill challenges and competitions to show your fellow stags who's boss before heading back into town to shower off and get ready for the big night ahead.