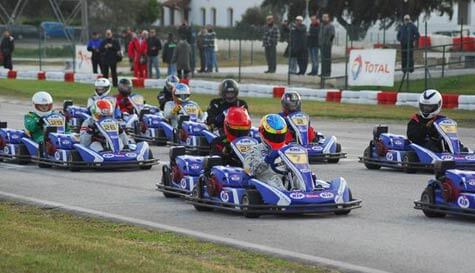 Go karting is an immensely popular stag sport for one simple reason: it's absolutely epic! Our Lisbon outdoor go karting centre is one of the best in the world, offering a mammoth 1,270-metre track with 10 metres of width for overtaking and 270cc karts for spanking around the track at roughly "Waaaaaarghhhh!" miles an hour.
If you're going to get all technical, they're actually capable of hitting in excess of 45mph which feels $*@%ing fast when the soft flesh of your backside is racing along just inches from the tarmac. This really is the most fun you can have with a helmet on.
When else do you get to forget speed limits, overtaking around corners, racing against your mates and occasionally careening off the track without worrying about losing your license, hurting anybody or destroying your pride and joy? Our Lisbon stag party outdoor go karting facility is the perfect place to settle once and for all who is the fastest behind the wheel and shut the Forza and Need for Speed couch heroes up while you're at it.
It's also the perfect head-clearer for any lingering stag hangovers. Although probably not best to make a third trip to the all you can eat breakfast buffet before bouncing around the track.
Our Lisbon stag party go karting has two racing packages to choose from:
Grand Prix - Battle for 1st place is a 25-minute session of four-wheeled mayhem.
Le Mans - Coordinate your racing efforts as part of a team in this 50-minute endurance race.