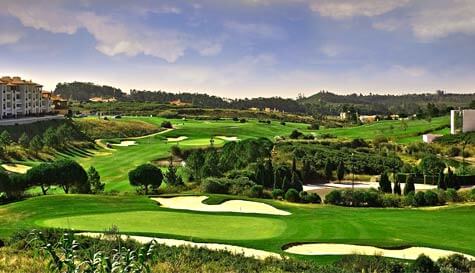 As close to a banker as is humanly possible, this epic golfing activity in Lisbon is just the ticket for any stags with a penchant for golf and a sure-fire hit with the lads. You and the stags can choose to play either 9 or 18 holes on Lisbon's most spectacular, yet challenging, golf course.

Set in the mountains between Belas and Queluz, this par 72 course stretches over 5,000 metres, providing a challenge for both amateurs and the pros, with its tricky water hazards bordering the fairways and greens, it is sure to make for an unforgettable round. There is even a hole called Augusta, a par 5 built in homage to the famous Masters Tournament venue. The 18th, christened 'The Big Hole', demands players to make 180 metres from the tea onto the green, which is protected by a lake which is a golf ball magnet.

Golf is always a winner for stag parties as it gives you some healthy stag competition and a range of ways to get your round in (four ball, singles, matchplay, etc). It's also a nice easy way to start off your day allowing any sore heads to recover in the fresh air. Golf always gives you the added bonus of being able to verbally rip each other to pieces as you laugh your way through all the bad shots along the course. Could there be anything more pleasurable than watching the groom hit the water during a mini stag golf tournament being held in his honour?

Having completed your round, it is time to head back to the clubhouse to work out those all-important scores! Who will have bragging rights for the rest of the weekend, and who will have to buy the first round?