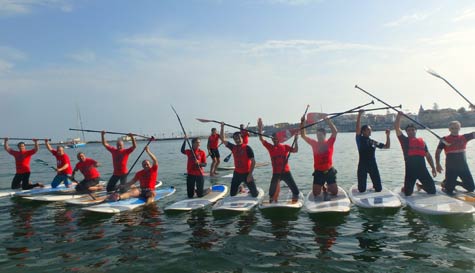 Some sports are just cool, they're the sports that make you look sharper and are definite babe attractors; surfing, motor racing, crown green bowls. Well, you can now add stand up paddleboarding to that list. "Surf's up!"
Our Lisbon stag party stand up paddleboarding session is a great way for your team of action men to dip their toes into a new adventure sport while learning from an expert. Plus you get to hang out on a fantastic beach for the day, lined with bars, cafes and usually plenty of hot Lisbon locals.
At the start of the session, you'll be picked up at your accommodation and taken the pristine beach (one of Europe's top beaches) where you'll meet the instructor. He'll give you a quick briefing and then get down to the lesson. You'll learn the basics on the sand before hitting the water. For some of you that will be literally, and come on let's be honest, who doesn't want to see the groom face plant the Atlantic Ocean?
Groups of 17 can head out at a time (larger groups will split into multiple sessions), while one group are skimming the waves the rest of the stags can chill out on the beach and work on their pre-wedding tans. Once you get eh hand of the boards you'll have a series of races and games to see who will be the last man standing.
At the end of your Lisbon stag party paddleboarding session, you'll be taken back to your accommodation ready for another big night out.