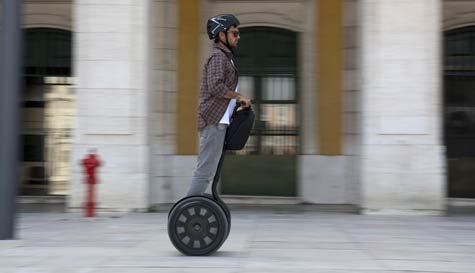 Walking? That's for fit people!!!

No, cool stags don't do anything as mundane as walking, when serious stags take to the streets to see a new city they do it in style. "Gentlemen... Mount your segways!"

In fact, you'll soon be wondering how exactly you've managed to live so long without having a segway in your life. These two-wheeled freaks of physics might take a little while to get your heads around but once you get upright and personal with your electric chariot they are quite simply epic!

The steering is so easy that even the doziest of stag-day drivers will master it in no time. Lean forward and back, and turn left to go left, right to go right, quite frankly if there is someone in the stag party who struggles then remove their 'man-card' immediately and send them off to join the hen party.

On this segway tour you stags will get to know the secrets of Alfama and the Sao Jorge Castle with a local tour guide, taking in all of Lisbon's famous attractions, old shops, restaurants, parks and much more! Once out on the mean streets of Lisbon, you'll be like slightly less macho Hells Angels, who prefer more eco-friendly two-wheeled transport.

Easy to drive - check.
A whole lot of fun - check.
A unique, great way to see the city - check.
An amazing add-on to your epic stag itinerary - check.