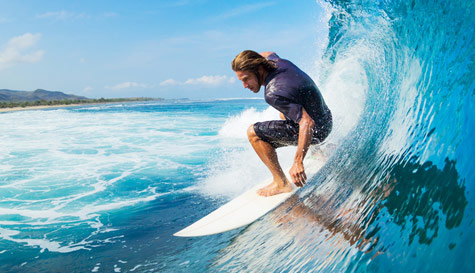 Probably the coolest sport ever invented and an awesome group activity. Whether you're an experienced beach bro or a total novice, surfing is a must-do activity for any fun and thrill-seeking stag weekend and where better to try this stagtastic activity than in the Portuguese sunshine. Plus the Atlantic waves mean these are recognised as some of the best surfing beaches in the world.

All great stag weekends need something new, with a slight hint of danger, and while there's little chance of getting eaten by a shark in Portugal, there's the very real danger of hitting the water face first in front of all your mates while some bright stag captures the moment on his phone.

But surfing is likely to be something completely new for the stags, chances are if you do have a couple of surfboard heroes in the party they'll be keen to get into Portugal's legendary surf as well.

Included in the package are return transfers; you will get picked up from your hotel and whisked off to the fantastic Carcevelos beach to get stuck in amongst the waves. As well as expert tuition from the best in the business you will be provided with all the equipment, so all you need to do is take your trusty Speedos, a towel, a good sense of balance and of course a good factor suntan lotion to enjoy the rays!

PLEASE NOTE: Though the standard duration is 90 minutes, it is possible to extend the surfing session. Also, if you want to chill out at the beach afterwards, it can be arranged for you to stay afterwards and play games, as well as enjoying a few drinks. Please ask your account manager for details.