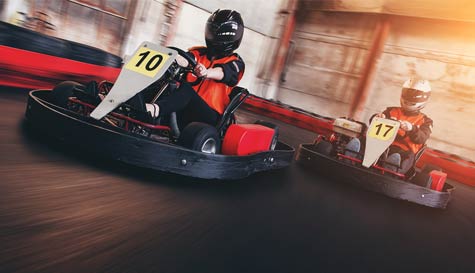 Go karting in Liverpool gives you 900m of track in which to rev your engines, slam your foot down, and enjoy some pure, unrestrained speed. For both petrol heads and captain slows alike, go karting is one of the best, most popular choices for a stag party, letting lads enjoy some pants-wetting fast, furious motoring action, putting both their abilities and nerves to the test on a course that pushes you and the karts to their absolute limit.

You'll be racing in our fleet of modern, race-ready karts, each with a lightweight chassis and a Honda engine. The award-winning track itself is amongst the best in the north-west, with outdoor sections, banked corners, tunnels, hairpin turns and two flat-out 125m straights to compete on.

All little boys grow up dreaming of fast cars and racing driving, but it's only a select few that ever get beyond the race-car bed stage - and with StagWeb's go karting in Liverpool, you and the lads will be able to count yourselves amongst them. Sure, it's not Formula One, but as you're speeding around the track just two inches off of the ground in desperate pursuit of that podium place, you'll be hard-pressed to remember you're not Michael Schumacher.