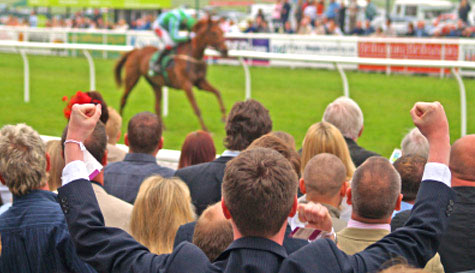 A day at the races is a classic event for lads who consider themselves a little more gentlemanly. But the gentlemanly behaviour stops at the smart get-ups, as there's nothing calm or collected about screaming your 100-1 outside runner across the finishing line and loudly proclaiming your awesome betting skills afterwards.

If you and the lads love a bit of a flutter then our Liverpool stag do horse racing is held at one of the best venues in the country to watch this epic sport. This racecourse opened all the way back in the 19th century, with 127 acres of parkland and both flat racing and national hunt racing. You can be sure that when you and the boys are willing your bets over the line they're racing on a track of real quality... Even if they don't all romp home and bring you the big money.

There are plenty of bars and food outlets to keep the lads fuelled up as well as a fair few bookies for you to either double your money or if you're really unlucky lose it all!

It's chilled out, so you and the boys will have an opportunity to really get some banter going. But at the same time, things can get very loud and very exciting really quickly, as these races are seriously fast and furious when you watch them live.