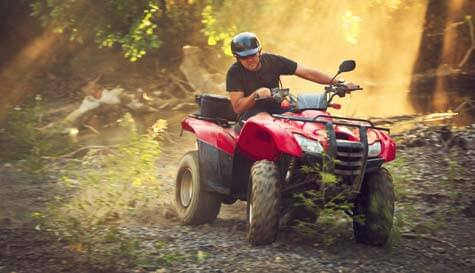 Quad biking might well be a tried and tested stag party classic but our Liverpool site is truly epic! A six-mile track over some serious terrain stretched over a 200-acre site.

We're going to be honest with you guys, there are plenty of quad tracks around and some you might find gentler if you've never tried it before. But for those that want real hardcore action on some off-road thrills and spills then this is one of the best places in the UK to get your wheels dirty.

No matter how competitive the lads are, or how much trash talk they come up with before the day, you can simply let your driving do the talking as this track really will separate the stags from the boys. With powerful quad bikes (we only like the best) you can put the pedal to the metal and let your fellow stags eat your dirt.

The track comprises of; woodland tracks, streams, rolling fields, riverbanks, dirt tracks, and an awesome man-made sand dune.

But despite all the competition it is safety first so listen to the instructors and try to keep the quads shiny side up. Remember, "Four wheels good two wheels bad."
Why not add...
Double the fun with a great deal when you add a second activity at this site. There are a number of stag vs stag challenges to choose from;
Segway Challenge
Stag Challenge Day