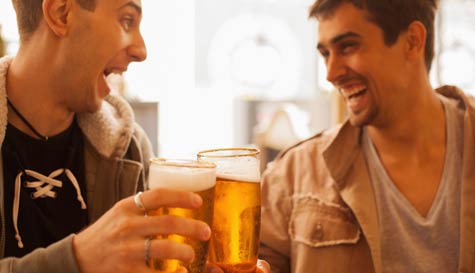 We're not legal experts by any stretch of the imagination, however we're pretty sure it's illegal in most civilised countries to throw a stag party without beer. It's certainly a dereliction of duty in your role as best man to plan the party and not keep everyone suitably refreshed.
Don't be that guy.
Stag weekends aren't about getting the groom drunk anymore (this isn't the 1990's), in this day and age it's fine just to have a discerning beer palate and a love of the good stuff. You and the guys can tuck away a few local brews as you sample the best of Slovenian beer-making in this great activity. Beer is like football, it's something that can unite men from around the globe, it cuts through language barriers and makes us all best mates.
You'll be sampling beers from the best regional microbreweries. A local guide and beer expert will lead the way at a craft pub keeping the session light and entertaining. If you want to get beer-tellectual, you can discuss colour, aroma, flavour and all the different notes. He'll also be able to tell you about the brewing process as well as the differences between different types of beer. If ever you've wanted to ask beer questions but were afraid to ask, now's your chance. The session is particularly good for the groom if he brews his own beer at home.
You'll be trying seven different beers in total and being held in a pub you can always buy a glass of your favourite at the end of the session if you want. You could also end the session with a meal (please ask for details) because man cannot live on beer alone.