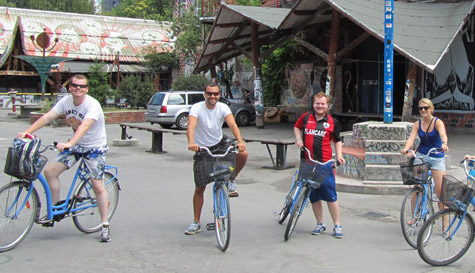 A large proportion of stag dos are spent at the bar, now it's time to swap it up for handlebars and explore the fantastic city of Ljubljana with the epic Bike Tour. Get those helmets on, saddle up and prepare to peddle as you coast off around the Slovenian capital taking in the stunning sights. A great way to see the city and perfect for guys who love adventure and travel.
On arrival, your English-speaking guide will show you your bikes, then there'll be time for one final squad selfie before you roll. You'll be guided around the city for two-and-a-half hours, visiting the most iconic spots and learning some funky facts and getting local insight, before you finish in the picturesque Tivoli Park with a well-deserved beer. "Na zdravje!"
The sights:
Dragon Bridge
Republic Square
Modern Gallery
Butcher's Bridge
Old Town
Metelkova
Trubarjeva
Main Market
Preeren Square
utar Bridge
Roman Wall
Krakovo District
Nation Library
Congress Square
Opera House
Tivoli Park
National Gallery
Embassy District
On your trip around Ljubljana, you will take in all the weird and wonderful sights the quirky European city has to offer. Cycle over the historic Dragon Bridge, check out the alternative cultural centre of Metelkova, take in the many bars of the Old Town and visit some of the capital's other famous sights before you finish off in the glorious Tivoli Park with an ice-cold beer.
All that peddling can be thirsty work, so once you've completed your Tour de Ljubljana and visited the best sights in the city, be sure to check out the best drinking spots the capital has to offer with a Guided Pub Crawl. Contact a member of our team today about creating that epic weekend package in Ljubljana.
So, forget the bus tours and leave the walkers behind as you and the boys spend a laughter-filled afternoon cycling around this wonderful city.