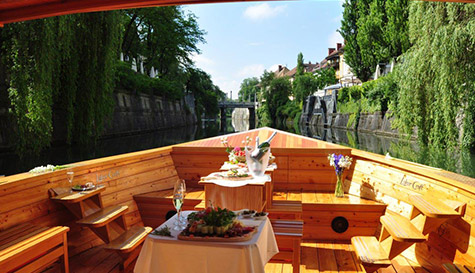 Forget the overcrowded, dull bus tours packed full of families and fun-sponges. If you and the boys are going to do some sightseeing, you should do it in style. Reclining, relaxing, drinking. See the best that the Slovenian capital has to offer, whilst you and your fellow stags kick back and enjoy yourselves, with your very own private Ljubljana Boat Cruise. And unlimited beer!
Enjoy an hour-long boat trip cruising along the Ljubljanica as you sprawl out and indulge in the unlimited bar. Truly the best way to see the sights of the city and gear the boys up for that big night out.
You'll kick off your journey by heading down towards Park Spica, where you can check out the city's peaceful side, before you loop back towards the centre. On the way back bask in the spectacular views of the impressive Ljubljana Castle, see the vibrant Old Town in all its glory and witness the stunning architecture of the capital.
If you fancy throwing some food into the mix, to save you all trudging around to try and find somewhere to eat afterwards, StagWeb can add either a meat or a cheese plate for just €30.
So, why settle for a standard tour of the city? Why waste valuable partying time spending hours traipsing around trying to catch a glimpse of some of the city's best sights? Why do any of it when you could spend an hour chilling out with the rest of the stags, with a few beers, watching it unfold before you? Take the hassle out of sightseeing and book this epic tour today!
Once you're had a guided tour of the city's best sights, why not have a tour of the city's greatest pubs with the Guided Pub Crawl. Contact a member of our team today for more information about creating that epic weekend away in Ljubljana.