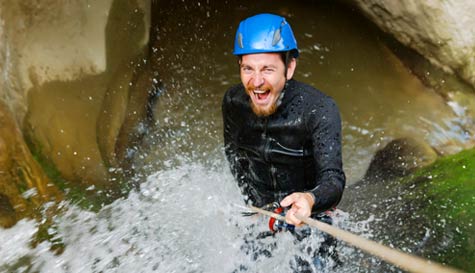 Slovenia is undoubtedly one of the very best places for great outdoors activities and challenges and they don't come much wilder than our Ljubljana canyoning stag adventure. Jump over the stunning waterfalls into crystal clear pools, slide on natural chutes and negotiate trickier terrain with the support of just a rope and your fellow stags (who might well be more likely to extend good stag banter and insults rather than helping hands). Canyoning here in Ljubljana really is second to none and the stunning natural surroundings make it worth the trip alone. It's a demanding adrenaline rush and also the most extreme hangover cure of all time.

You'll be shown the ropes (no pun intended) by an expert instructor who will be on hand to keep you all pointing in the right direction and keep everyone's heads above water. After all, there's nothing worse than having to go back and explain to the bride-to-be that you last saw the groom "...climbing into a cave, we were going to go and get him but we didn't want to miss last orders."

But you definitely will work up a thirst on this massive stag-sized challenge and the evening's first pints will taste all the sweeter for having been hard-earned out in the wilds pitting yourselves against Mother Nature in an epic battle of stags vs environment.

This is definitely NOT for fainthearted stags and we would stress you'll need decent fitness levels to really tackle the course which takes no prisoners so this extreme stag challenge might not suit all groups.

This exhilarating adventure really does separate the stags from the boys and will be the one the guys will be talking about for days, the perfect team bonding experience. It's something you'll be talking and laughing about long after the groom has jetted off for his honeymoon.