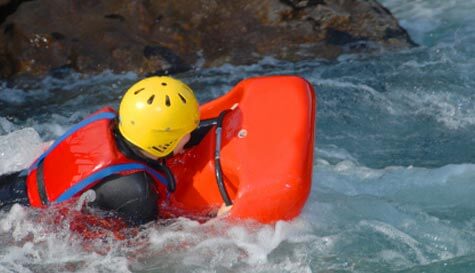 If you're on the lookout for some truly unusual activities on your big weekend in the Slovenian capital, then this is simply one of the most exciting stag party sports... ever! Our Ljubljana hydrospeeding will see you racing down rapids with just helmets, a life vest and a buoyancy aid. Yep, no boat for you guys. You'll head straight into the water and feel the full force of nature. Anyone not feeling tough enough might want to back up now. This is an extreme sport for serious stags! And it's almost exclusive to Ljubljana so contact us today to get a hassle-free quote on this superb adventure.

Hydrospeeding is essentially white water rafting for one. You'll be equipped with a wetsuit and flippers before launching off on an adrenaline-pumping rapid course that'll see you literally fired up sh*t creek without a paddle.

You've only got two handles on your craft to steer yourself through the crazy twists and turns on this course which you'll also want to be holding on to as you plunge into the epic drops! This activity should really feature 'balls of steel' as a requirement for entry. It's awesome stuff that'll really test your nerve and when you succeed it'll become the stuff of stag legend back home.

This is definitely one for stags who think that ordinary white water rafting is a bit too pedestrian for them. Hydrospeeding is mad fun that'll have you feeling as if you're in a level of your favourite Call of Duty game as you fly down these rapids as fast as you can. You know it'll be super satisfying when you guide your fins just right to cut through the relentless rushing water without mercy.

This is guaranteed to provide some unforgettable moments, and let's be honest, who doesn't want to see their mates screaming their heads off as they fly down the rapids at warp factor?