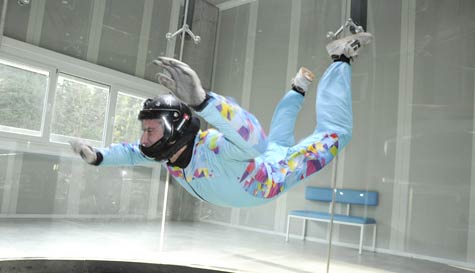 So how cool are you? Think you're cool enough to stay calm as you fly for the first time? Only one way to find out. This fantastic set up gives you the sensation of flying without having to sit in an aeroplane for hours or be strapped to some ex-paratrooper. Win/win.
You'll be picked up from your accommodation and driven to the superb flight tunnel where the expert team will be waiting to greet you. It's then time to fly!
The Stats
Flight time; 2 x 2-minute flights
Top wind speed; 143 miles per hour
Drop equivalent; Over 7,000 ft
Flight chamber height; 29.5 ft
Flight chamber diameter; 12 ft
You'll have some basic flight training and be given goggles, helmets and super cool jumpsuits (we liked ours so much we bought some to wear to the late-night shop, like onesies, with zips). You'll learn how to catch the most lift, how to make a controlled descent, and how to sing R Kelly songs.
You'll then take it in turns to enter the tunnel and fly. Each flight is the equivalent of free-falling over 7,000 feet, with the wind racing past you at up to 143mph. If that doesn't clear the hangover, nothing will!
At the end of the session, you'll be taken back to your hotel.