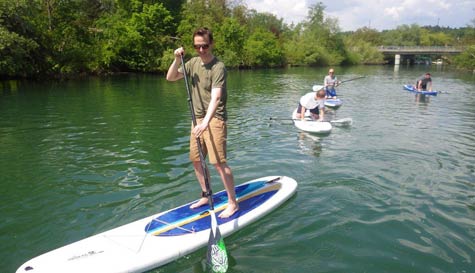 If you've never seen paddleboarding it is essentially a modified surfboard. Paddleboarding might seem like a new sport but it dates back to the 1940s and the beaches of Waikiki. Now it's your turn to become beach boys.
You'll meet your friendly English speaking instructor who'll show you all the basics on dry land. These boards are made a little wider which makes them more stable so hopefully, none of the guys will take an early bath. Unlike windsurfing, it is entirely possible to survive a whole session without hitting the water once. Of course, if the groom does faceplant into the river than it will just make the day even funnier for the rest of the guys. It's certainly best to bring a towel just in case.
Once you've all learnt the basics you'll take to the river like stags to water. It's then time to put your training into practice. The Ljubljanica River is a quite stunning stretch of water, in the summer months, temperatures are really good, making this a great summer activity. And yes, once you master it, paddleboarding is one of those activities that does make you feel cooler. It's also weirdly addictive and definitely something you'll want to take up when you get home. However, our Ljubljana stand up paddleboarding stag party is a great way to learn all about this awesome sport.