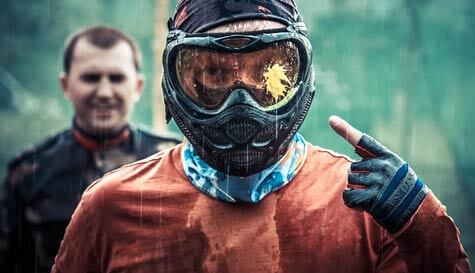 Yeah, the guys might be a bit handy sat in the safety of their armchair, shooting zombies or giving it large on Call of Duty. But how will they cope when the paint really hits the fan?

You can be a tactical genius by hatching plans and forging strategies, or you can let your trigger finger do the talking out on the paint spattered battlefield, it's totally up to you. You'll need to use teamwork to come out on top, but the tempting prize of stag do bragging rights is worth all the effort of trying to coordinate several severely hungover blokes.

Our Ljubljana stag party paintball venue has state-of-the-art semi-automatic paintball guns so you can give the groom the complete Dulux makeover he so richly deserves. And that's not all, he'll be wearing a costume will be waiting for him plus an extra special challenge just for him as the rest of the guys watch. And jeer.

It really is no wonder Ljubljana stag party paintball is still one of our most popular activities. Where else do you get to shoot the groom in the man veg from close range? Repeatedly? With a variety of game modes and battle arenas on offer at the venue, you'll have to constantly be thinking on your feet to emerge victorious from this challenging day of stag carnage. So ready your comrades, grab your guns and let slip the dogs of war!