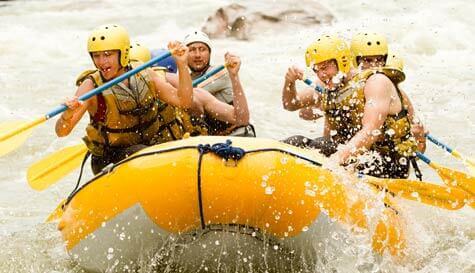 Ah, Ljubljana. The Slovenian capital really is beautiful, it's the sort of city you'd see in Lord of the Rings or Game of Thrones with its striking architecture and of course, it's gorgeous girls. So you might be surprised to learn that this stunning city is actually home to one of the baddest, most adrenaline-pumping outdoor activities around. Our Ljubljana white water rafting is seriously thrilling, and it's a great way to see a different, more extreme side of this awesome city.

This definitely isn't for everybody, white water rafting can be pretty hardcore, and it should really come with 'balls of steel' as a requirement for entry. This is where stag legends are born boys, tales of this white water ride could be told down the pub for years to come, although they'll probably involve far less screaming.

The course itself boasts an impressive 10km of rafting action, so you know you'll get your money's worth from the moment you step into your pontoon to the moment you clamber back onto dry land. It won't be as easy as following the current though, you'll need all your gym-built (or otherwise) muscles to paddle your raft in the right direction when it comes to avoiding tricky natural obstacles. Otherwise, there could be some awkward explaining to do when you realise you've left the groom dangling on a low hanging branch.

Our Ljubljana white water rafting experience will inject your big weekend with a healthy dose of adrenaline. There are big laughs to be had here, as well as the kind of constant action that's sure to keep the lads entertained before you head back to town for that big night out.