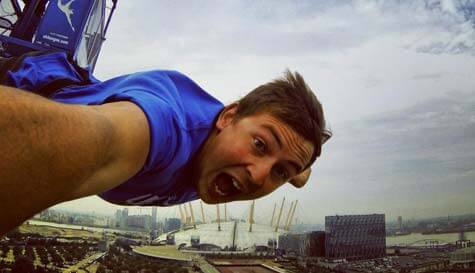 Bungee jumping is infamous for being the ultimate thrill-seeking experience. A lot of people think it is crazy to throw yourself headfirst off an edge and drop 160 feet down. We couldn't possibly comment on that.

What we can boast about is this absolutely amazing site for bungee jumping in one of the capital city's most iconic landmarks. This really is a stunningly unique and extraordinary setting for you and the lads to take the crazy (head first) plunge. With the magnificent views of The Thames, Canary Wharf and Central London in your eyesight as you make your rapid descent; it is an incredible and once-in-a-lifetime experience - and coincidently a perfect hangover cure.

This is an activity that really will separate the men from the boys and could be perfect for the groom that has it on his bucket list of things to do. It really is a London stag do you will ever forget and one of those "must-do" things every man should test himself against sooner or later and a stag do is the perfect time to do it. A group of slightly hungover testosterone-fuelled lads all making jokes at each other's expense as they each try to mask the fact that they are indeed absolutely bricking it!